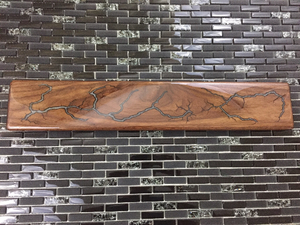 Lichtenberg Fractal Burn Epoxy Magnetic Knife Rack - 4.25" x 24"
Regular price $299.99 Sale
Holds 15 knives (not included)

This knife rack can be mounted vertically or horizontally! Each and every Ringo Rack is meticulously handcrafted here in the USA using the highest quality materials.  They are easy to clean, durable and a unique gift idea for any occasion.

GUARANTEED TO BE THE STRONGEST MAGNETIC KNIFE RACKS YOU WILL EVER FIND!  Great for planes, trains, RV's, and rocket ships.  Specifically designed for high quality, heavy-duty chef knives.  These custom shaped knife holders are a unique addition to your kitchen and you will not be disappointed. They keep your knives from getting dinged and provide easy accessibility while staying out of reach of children.  The wood is finished with a super durable non-toxic epoxy, which protects your knives and extends their life, unlike metal magnetic racks that scratch the knives. Keyhole slots are carved on the reverse side to hang it on the wall without any screws showing (mounting hardware included). Walnut with pearl-filled burns shown in the photo.

Dimensions: 4.25"(H) x 24"(W)

FREE shipping within the US and FREE return shipping if you are not completely satisfied.